Everything doesn't have to cost an arm and a leg in order to have some fun with friends, family and/or your little ones. In the Quad Cities, take a look below at all the free fun we have going on around here!
Schwiebert Riverfront Park. Located in downtown Rock Island, Illinois, not much can beat a river view, a playground, a waterfront trail and a water play fountain. It's the picturesque scene of a Midwestern river town, and friendly for people of all ages.
Nahant Marsh. Home to an array of mammals, reptiles, insects, amphibians, and over 150 bird species, the site is one of the few remaining wetlands in the area. So, take a day to check out the free educational experience, and take the kids to look at the animal and plant life, at no cost.
Bucktown Center for the Arts. Home to the Midwest Writing Center, and local art galleries, this magnificent craft is open Wednesday through Saturday from 11AM to 6PM. It offers two floors of art galleries, with an array of artistic treasures, including jewelry, paintings, sculpture, metal,  prints, photography, collage, crafts and more!
Black Hawk State Park. The  Black Hawk State Park and historic sites are a Quad Cities treasure. Not only does the park host ample opportunities for running around playgrounds, hiking adventures and picnics, but it is a living landmark, full of Native American history. While you are there, check out the John Hauberg Indian Museum to embrace the culture of our past.
Niabi Zoo. Lions, tigers, bears, oh my! The local zoo is the place to hit this season. Located in Coal Valley, Illinois, and open March through December, the zoo is home to over 140 different species from across the globe. While it isn't free every day, the zoo does have family free days, so make sure to check out the schedule to find out when these events are scheduled!
Backwater Gamblers. While most of us are taking a dip in the local swimming pools, the Backwater Gamblers are jumping, flipping and stunting their way on water skis across the Rock River all summer long. It's quite the sight to see! Open Memorial Day through Labor Day, head on down to see the spectacular sights of this water ski show at 6:30 PM on Wednesdays and Sundays. They are located on 44th Street off of Blackhawk Road, on the banks of the Rock River in Rock Island, Illinois.
Deere-Wiman House and Butterworth Center. Home to the son of John Deere, these two extravagant homes were built in the late 1800s, and preserved in Quad Cities history. During the winter and summer holidays, the homes host live reenactments of the time period in which the family lived. All other events and tours must be booked through appointment.
Bass Street Landing. Home to a child-friendly spray fountain area and retail fronts by day and host to live concerts and outdoor gatherings at night, the Bass Street Landing area, located in downtown, Moline, Illinois provides a modernized outdoor space full of festivities, free of charge and full of enjoyment.
John Deere Pavilion. Filled with innovations of the past and present, travel downtown Moline, Illinois to get a real feel for the heritage of the the Quad Cities area. Great for children, with it's interactive climb-aboard machines, this area is not one to miss.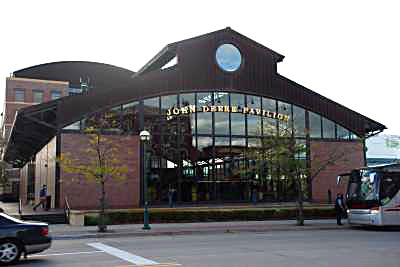 Arsenal Museum. Open Tuesday through Saturday from 12PM-4PM (not including federal holidays), this museum holds another important part of Quad Cities history. Intended to, "…collect, preserve, and interpret the history of Rock Island Arsenal and Arsenal Island," the museum focuses on telling the story of those who worked within the walls of the Arsenal and the manufacturing of military equipment that took place on the base. To learn more, visit their website.