Sunny, summer days are made for hitting the pool, and the Quad Cities has many options for you. Cool off with a day of fun at these water-filled locations!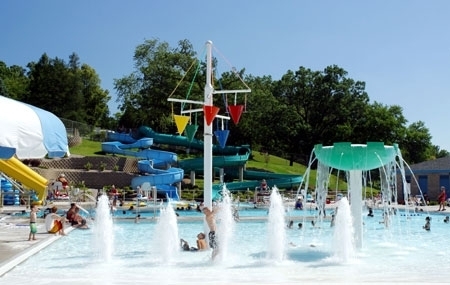 Whitewater Junction – Whitewater Junction has long been considered the jungle gym of Quad Cities. Since its opening in 2003, Whitewater Junction has been the favorite among Quad Cities residents. As a child, I enjoyed spending time with my friends and family at the local pool, with its tube-ride slides and deep-water dive slides.  Join in the water park fun at the Rock Island swimming pool Monday through Friday 11 AM – 8 PM, and weekends/holidays from 10 AM – 6 PM. Daily admissions are as follows: 3 and older $9.00, 2 and under free with paid adult. You can see the other swimming packages here. For more information please contact the pool at 309-732-7946.
Scott County Pool – You don't have to be located in the metro QC to splash in a pool or sprinkler this summer. Scott County Pool is conveniently located in Eldridge, IA, among the Scott Country Park area. Equipped with a heated "Olympic-size" swimming pool, a beach, water slides, baby pools, spray pads and more. Once open, hours are as follows: 12PM-8PM on weekdays, and 10AM-8PM on weekends and holidays. Admission prices are $5 for adults and $4 for children 17 and under for the pool. To access the beach, please see adjusted admission prices here. 
Splash Landing – Equipped with diving boards, water slides and water geysers, this Bettendorf water park is filled with fun for everyone from children to adults. As one of the most talked about water parks in the Quad Cities. The cost of admission varies on the time of day. For admission prices and hours, please visit the city website here.
Riverside Aquatic Center – This summer, spend some time relaxing at Riverside Aquatic Center. Located in central Moline, it is easy access on a warm summer afternoon, so get ready and lounge poolside. Typical admission price is $5 for adults and $1 for children under 3. But best of all, this local hotspot often has pool deals for the family. Make sure to follow them on Facebook to get the latest. Hours vary, so call ahead or check out the website here.
Schwiebert Park Spraygrounds – Got a toddler who isn't quite ready for the pool? Or some kiddos who love splashing around near the riverfront? Take them down to Schwiebert Park in Rock Island, located along the riverfront of the Mississippi. If they choose not to play in the water, you can always take them to the engaging park next to the sprinklers. Without a doubt, Schwiebert Park provides a whole lot of family fun at no cost!
Milan Spraygrounds – The list of sprayground parks in the QC continues to expand further each year. Parents, grandparents, guardians and nannies-alike, can agree that sometimes it's more fun than the pool when you safely chase the kids through mountains of waterfalls and splash among ground sprinklers. The Milan Sprayground is located at 315 4th Ave. E, Milan, is open 12-6 Tuesday through Sunday. Admission is $3. 2 years and younger is free. For questions, contact the park at 309-787-1543.
DeWitt Aquatic Center — Small town charm is the name of the game with the DeWitt Aquatic Center. Only minutes away from the delicacy of a small town ice cream shop, and equipped with slides and includes lap times, pools, diving board, child-friendly play areas and so much more. Check out the website for hours and fees.