The new year and the spring temperatures often start a health and wellness journey for many individuals in the Quad Cities area. Gym memberships are up, the river walkway is flooded with runners, walkers and bikers, and the number of people signing up for the latest cardio revolution class is astronomical. While I love almost all types of exercise that omits the dreaded burpees and planks, there's an important mental and emotional wellness that should come along with exercise as well. This can be done through whatever form of exercise fits you best, but is most notably famed for being an essential part of Yoga class. During the month of March, the Quad Cities is full of inexpensive and free Yoga opportunities for those looking to find inner peace during their daily exercise routine. Whether you're a teen, young adult, expecting parent, mother or father of 5, or grandparent, the Quad Cities has Yoga for everyone!
Restore & Renew at Shine Yoga & Bodyworks. On March 10th, take a deep breathe and let your worries go during a restorative yoga class at Shine Yoga & Bodyworks. The center, located in Moline, Illinois, offers a series of similar classes to help you find that inner balance. Set from 7:15PM-8:15PM, course prices can be found on the local studio's website.
Tapas! Free Community Hot Yoga. Hot yoga has become quite popular in the last decade due to its use of heat and humidity in the studio during a session. Some people believe this is done to copy the origins of Yoga in the humid conditions of India, while others have different theories. Regardless, the local Tapas Hot Yoga studio is running a series of free classes this month for those interested in participating in hot yoga classes. These trial-classes are set to take place on March 10th, March 17th, and March 24th from 10AM-11AM. It doesn't matter if you're a beginner or an advanced yogi, all levels are encouraged to try out these sessions.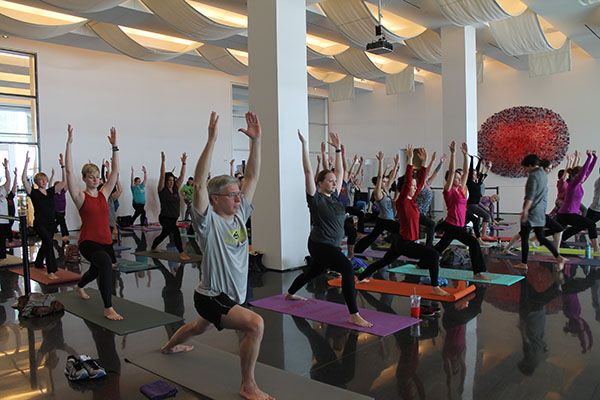 Yoga at the Figge for Families. When most of us think of the Figge Art Museum we think of the galleries, art, weddings, and galas, but few of us think of Yoga. The popular museum and venue is now offering yoga classes once a month in the beautiful grand lobby for both children and adults. With spring sessions set to take place from 10:30AM-11:30AM on March 9th and April 20th, locals are encouraged to sign up as soon as possible, as registration is limited. The price of the session is free-will donation and all those who participate receive free admission to the museum the following day.
Born to Breathe: Prenatal and Postnatal Yoga. Are you an expecting mother or do you know someone who is? Born to Breathe is a locally-based prenatal and post aka yoga organization founded by Roberta Kelinson. This program is offered at multiple locations, including The Group, Rock Island YWCA, Motherhood Matters, and Roberta's own home studio. For more information, see her website and class schedule.
Free Community Yoga at the TaxSlayer. Filled with freebies, massages, coffee, vendors and, of course, yoga, this community event is not one to miss! From 9AM-12PM, your day is packed with a 50-minute yoga session, health and wellness giveaways and a chance to sample local health and wellness vendors. Grab a sample tasting of wine (ages 21 and over) or coffee and a free back massage on Saturday, March 9th at TaxSlayer Center located in Moline, Illinois. No registration is required but it is recommended that participants show up between 9:15AM-9:45AM at the latest. The yoga class starts at approximately 10AM.
Find your inner peace this March through multiple yoga opportunities in the Quad Cities. While physical health is important, mental and emotional health should take the same amount of precedence in life. Without all three of those components, an inner balance cannot truly be achieved.