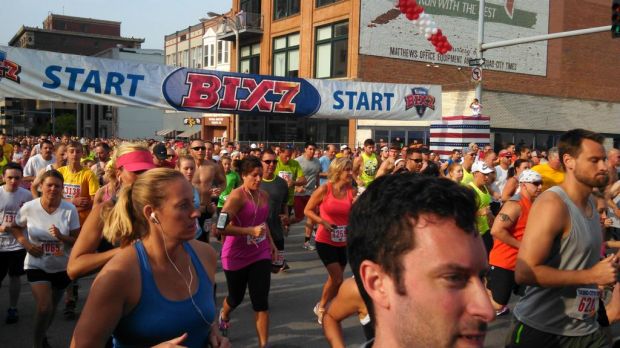 Jazz, July and…running? That's right. Lace up your running shoes and grab your iPods. It's time to get ready for the annual Quad-City Times Bix 7!
The Bix race began in 1975 by John Hudetz with the largest gathering of runners the Quad Cities had ever had at that point. After running the Boston Marathon, Hudetz decided to create a local race of his own. This was the first time individuals were also allowed to legally run in the streets of the city.
The event includes two races. The Jr. Bix is for children ages 12 and under who get the chance to run anywhere from under 70 yards to 7/10 of a mile. It takes place at 6 P.M. on July 24, and all children receive prizes just for their hard work and participation!
The historic Bix 7 race takes place on the morning of Saturday, July 25, and begins promptly at 8 A.M. And don't forget the Battle up the tall Brady Street hill at 7 P.M. on July 23!
Come join thousands of people from all over the country to conquer these seven miles!
You can find the Bix 7 registration here.  There is still time to register for both the Bix 7 and Jr. Bix.
After the Jr. Bix or after the Bix 7 on Saturday, you'll want to stop by the Downtown Street Fest for a treat from one of the food vendors or check out the arts and craft vendors.
Editor's Note: RAGBRAI also ends its week-long ride across Iowa on Saturday, July 25.  Riders dip their tires in the Mississippi River at Credit Island. Spectators can get to Credit Island by shuttle from the Centennial Park parking lot.